12. Slava Kozlov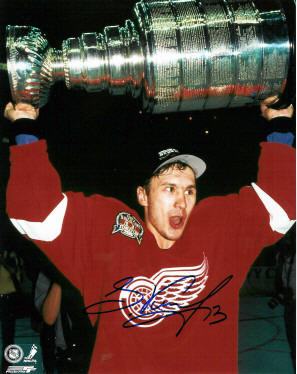 Often being overshadowed by his Red Wings teammates of the late 90's and subsequently toiling with the Thrashers in Atlanta have made many forget about Kozlov. The Rooksi forward was a critical component of Detroit's Cup-winning squads in 1997 and 1998, and managed to produce steadily and impressively for many years after.
11. Alexei Kovalev
Along with Sergei Zubov, in 1994 Kovalev became one of the first Russian players to ever get his name etched into the Stanley Cup. He finished 3rd in playoff scoring for the New York Rangers that season, then continued on with a dazzling yet streaky career playing for the Pittsburgh Penguins and Montreal Canadiens. (Not so dazzling in Ottawa).
10. Sergei Zubov
Zubov is only one of two defensemen to crack this list, but his spot is rightfully-earned. He was drafted in the 5th round in 1990, finishing his career as one of the best offensive blue-liners in the NHL. (Have you seen the Dallas Stars' defense without him?) He won a Cup with New York in 1994, then again with the Stars in 1999, grabbing two Olympic gold medals as well.
9. Pavel Datsyuk
Playing in the style of Igor Larionov, Datsyuk is a phenomenal playmaker. Though rarely a 'superstar' by the NHL's standard for Russians, Datsyuk has scored some amazing goals throughout his career. Still a young'in during Detroit's Cup run in 2002, he was an integral part of the 2008 Championship season. The center has helped to break down the Russian NHL'er Stereotype, being not only a great passer, but also one of the best defensive forwards in the league.
8. Ilya Kovalchuk
Ilya Kovalchuk represented the Russian sniper elite more than any other player this past decade. With speed reminiscent of Pavel Bure and a lightning-quick release, Kovalchuk has potted gallons of goals on a Thrashers squad that generally hasn't scored too many. Though only playing four playoff contests in the NHL and never winning one, he led the Russian National team to their two recent World Championship gold medals.
7. Evgeni Malkin
Malkin often gets overlooked as a result of playing in both Sidney Crosby's and Alex Ovechkin's shadows. But the 6' 3" center has already established himself as one of the greats, picking up an Art Ross trophy and earning Conn Smythe honors as playoff MVP after Pittsburgh's 2009 Cup victory (the first Russian to ever do so). At 23, he obviously has a lot left in the tank.
6. Alexander Mogilny
In the 1992-93 season, Mogilny scored 76 goals in 77 games with the Buffalo Sabres (tying Teemu Selanne for most in the NHL). Comprising a lethal attack unit with Sergei Fedorov and Pavel Bure in Moscow, Mogilny then became the first Soviet hockey player to defect to North America. Mogilny made it to a Cup Finals game seven with the Vancouver Canucks, then won the championship with the New Jersey Devils in 2002. He also managed to have a pretty good stretch in Toronto, which is, let's admit it, impressive.
5. Slava Fetisov
The top defenseman on the list, Fetisov earned his entire keep with the Red Wings in the late 1990s. The top Soviet defensemen of his era, Slava Fetisov captured two Olympic golds before matching it with two Stanley Cups. Though always overshadowed by the forwards, Russian defensemen had Fetisov leading their charge toward respectability in the NHL.
4. Igor Larionov
Igor Larionov has never been big on flash, but there is no better pure playmaker on this list. Larionov won three Cups with the Red Wings and was somewhat recently inducted into the Hockey Hall of Fame in Toronto. On the world stage, Larionov claimed two Olympic golds and centered the internationally-feared 'KLM Line' of the Soviet Union between Krutov and Makarov.
3. Alex Ovechkin
No Russian player since Pavel Bure has had such an effect on the NHL's overall popularity. Two consecutive Hart Trophies, two Richards and a Calder have all made a strong case for Ovechkin being the single best offensive threat in the league. Along with his aggressive and dominating style of play, and his hilarious persona, Alex the Great has easily earned the #3 spot despite being only 24 years old. No Cups yet and just one playoff round victory for A.O. at this point, but barring any major long-term injury, Ovechkin will finish as the all-time greatest Russian NHL'er.
2. Pavel 'The Russian Rocket' Bure
See below.
1. Sergei Fedorov
It wasn't easy picking Fedorov over Bure.
But then I figured: if
Anna Kournikova
could do it, so could I.
The Russian
tennis player
sex goddess was originally banging Fedorov, then switched to Bure. She then left poor Pavel and went back to Sergei, allegedly showing up to Fedorov' Cup victory in underwear holding a bottle of champagne (when she was like 16 or something). That was just one Stanley Cup of three for the Russian forward, who also captured the Hart Trophy in 1994. He currently stands as 5th all-time for the Red Wings in goal, assists and points.
He was a model of excellence during his peak years, which really started in the mid- '90s and stretched onwards for a decade. Every goalie feared Sergei Fedorov as he approached on a breakaway or geared up for a shot on the power play. Bure was a more exhilarating and dynamic player, but he never won a Cup and only made it to the Finals once. He also wasn't always into passing.
Looks like Kournikova eventually made the right choice.